Access
To log in navigate to the CivicPlus Console. If you're not yet registered, you can ask a colleague to add you in, start a free trial, or contact us, and we'll be happy to help. Once you log in, you'll be taken to the organization dashboard.
Home
This is the dashboard for your organization. The display shows a list of your Forms, Info Pages, Apps, and some simple analytics. These options are also available from the side menu, on the left-hand side of your screen.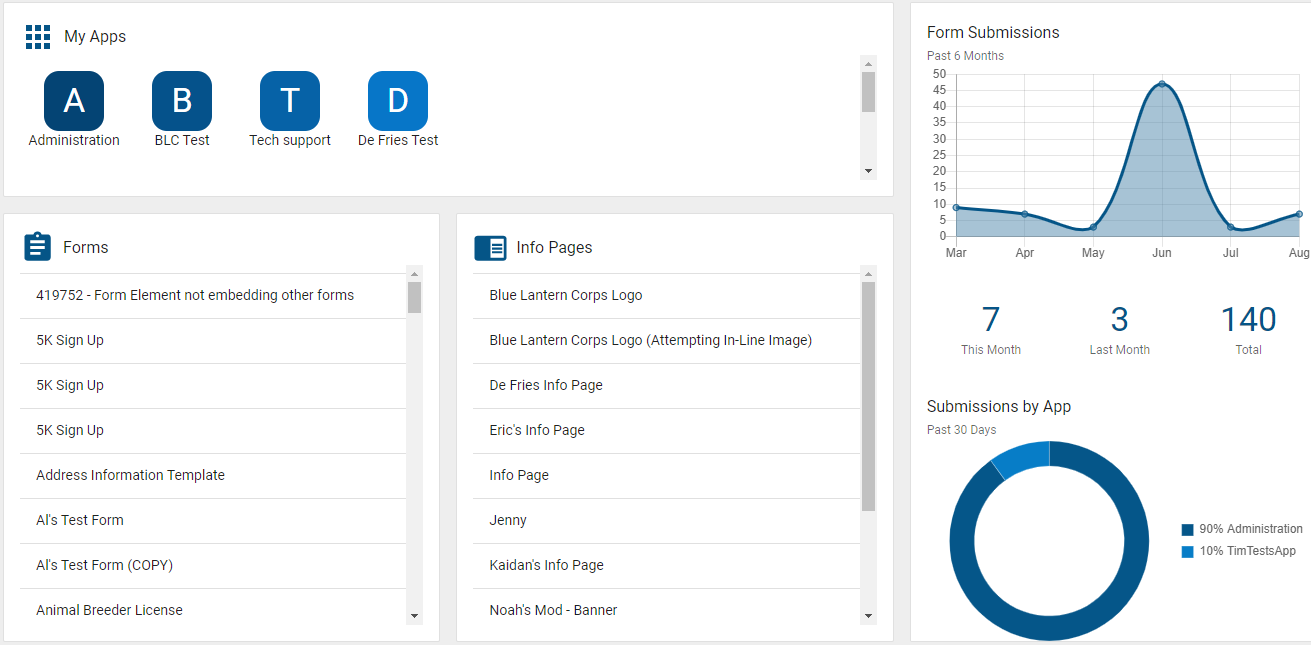 Create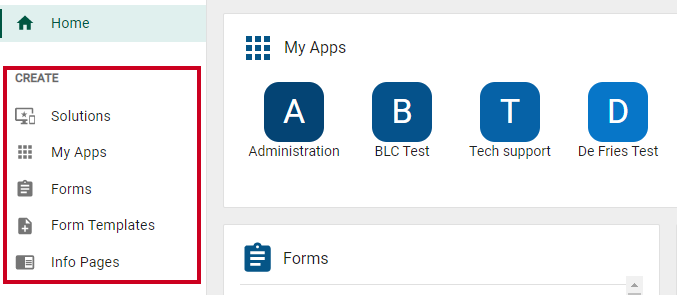 Solutions: Configure and manage solutions such as Data Manager, Approvals, and Volunteer.
My Apps: Create and customize apps for your instance.
Forms: Forms are the bedrock of your apps, they can be as complicated or as simplistic as you require.
Form Templates: Form Templates can be used as a starting point for creating new forms.
Info Pages: An info page allows you to add more information for your users to view. Learn more about Info Pages.
Advanced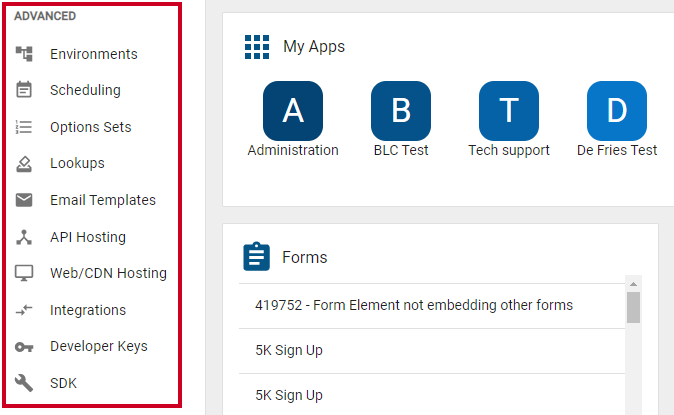 Environments: Environments are used to contain and manage your apps, forms, and info pages. Using environments you can create separate areas for developing, testing, and production apps.
Scheduling: The Scheduling feature allows people to book time on calendars via a form submission. Scheduling can be used to book appointments with internal staff, or even book time with equipment or locations.
Option Sets: Option Sets are a way for you to populate form selections automatically from a list of items returned from your APIs.
Lookups: Lookups are used to either populate existing form elements or generate form elements by linking to CivicOptimize hosted or custom APIs. These can be incredibly powerful, from pulling information into a form via your CMS (content management system) to generating entirely custom forms.
Email Templates: Email Templates allow you to customize the body for your Email and Email + PDF submission events.
API Hosting: The API Hosting section will display a list of your hosted API endpoints.
Web/CDN Hosting: The Web/CDN Hosting tab will display a list of your hosted custom web apps.
Integrations: Set up and configure Integrations between third-party sites or other CivicPlus products and CivicOptimize.
Developer Keys: CivicOptimize allows developers to create their own keys inside the console. Keys can be created for Forms, Web Apps, APIs, and PDFs.
SDK: The CivicOptimize SDK (Software Development Kit) is an open-source SDK designed to allow developers easy access to features.
Administration

Contact