Login
To log in navigate to the CivicPlus Console.
If you're not yet registered, you can ask a colleague to add you in, start a free trial, or contact us, and we'll be happy to help. Once you log in, you'll be taken to the organization dashboard.
Home
This is the dashboard for your organization. The display shows a list of your Forms, Information Pages, Apps, and some simple Analytics. From here clicking on any of the items in the forms, info page or app lists will take you to that item.
These options are also available from the side menu, on the left-hand side of your screen.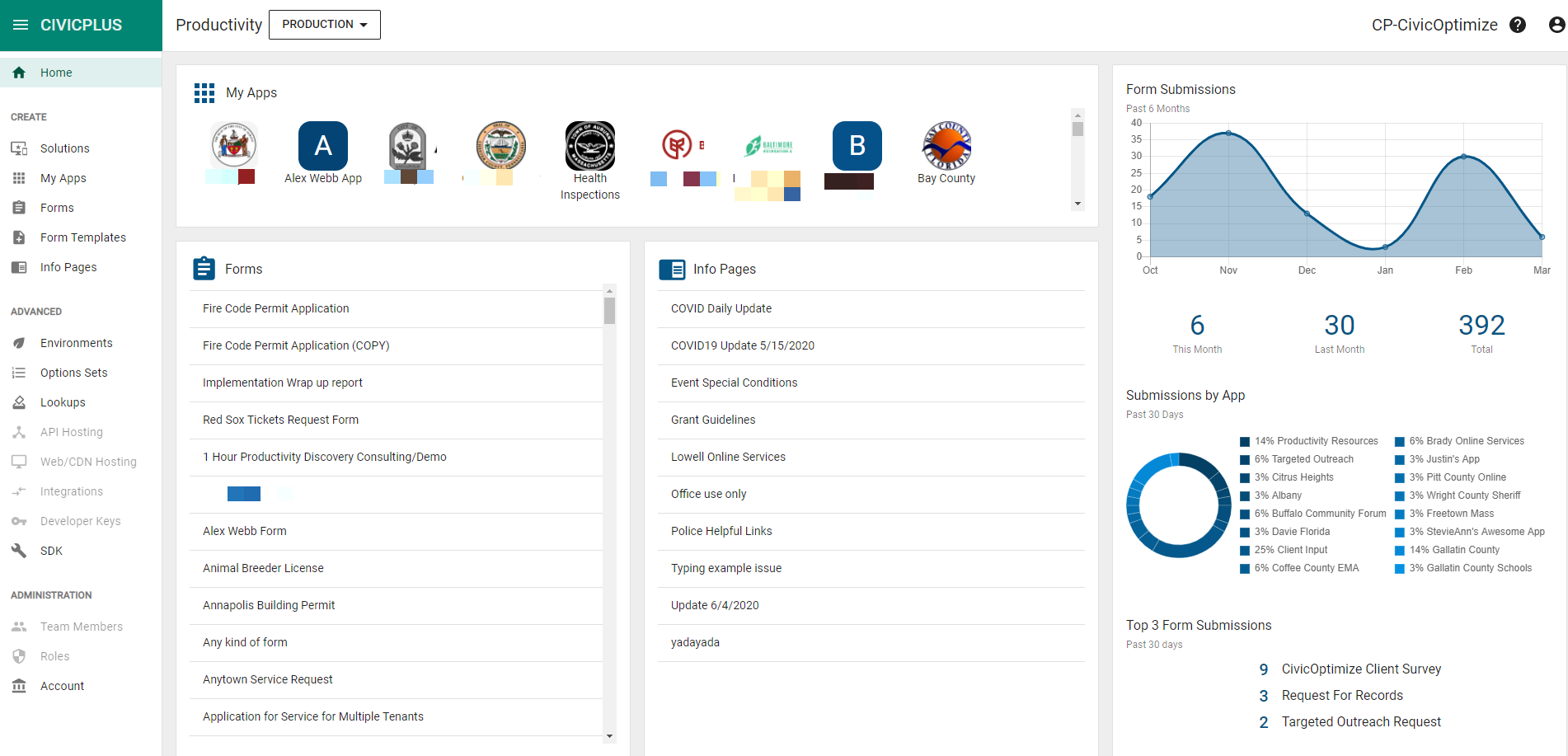 Create
My Apps
Here you are able to see the application icon, name, link to open the web app, and a manage section.

From the app manage menu, you have access to the app details, content page, app customization, app user pool, and app-level submission history.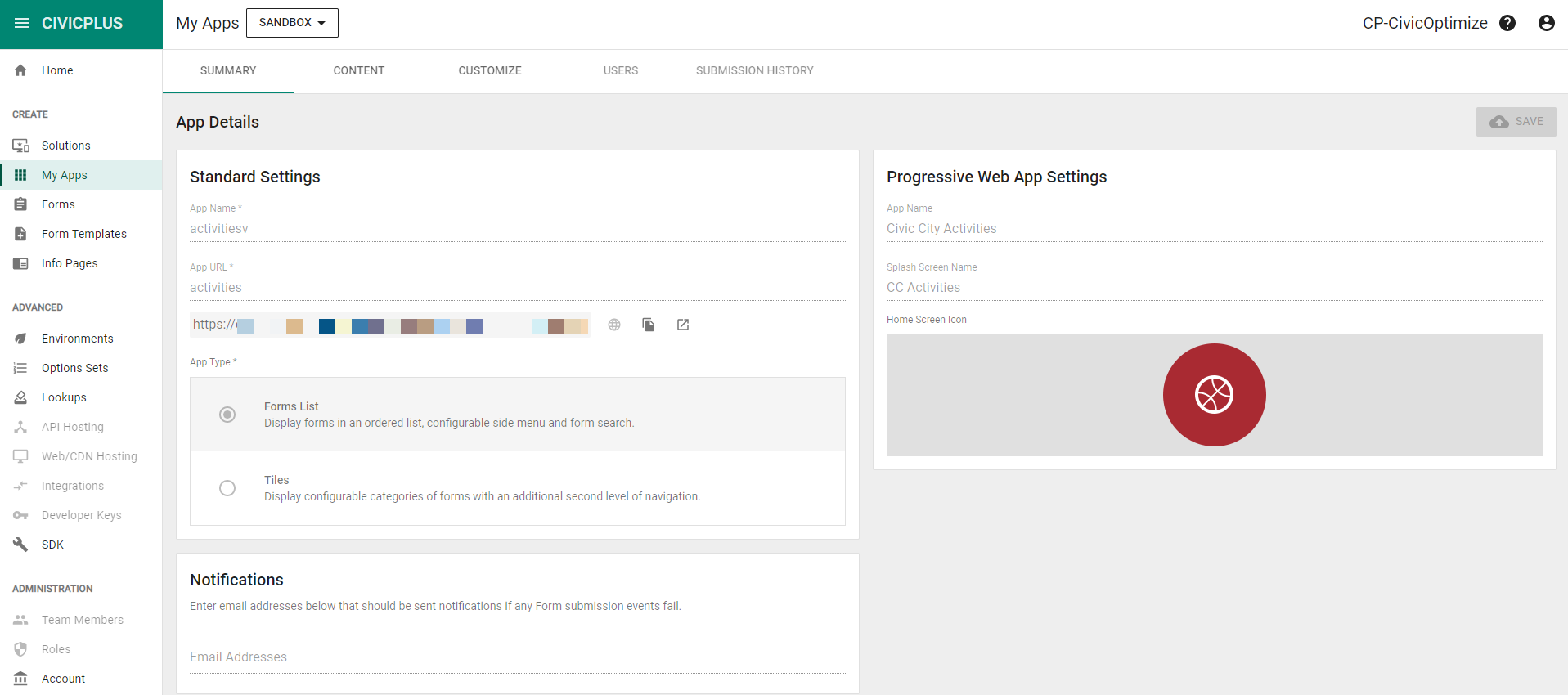 View more information on My Apps.
Forms
Forms are the bedrock of your apps, they can be as complicated or as simplistic as you require.

The form list page will show you all the forms you currently have saved in your account, as well as offering you the ability to create new forms. The form list includes a search bar allowing you to quickly filter your forms. It also includes the form description and some useful icons.

Additionally, Form Templates are filled with pre-loaded templates that you can add to your Forms and edit as you need.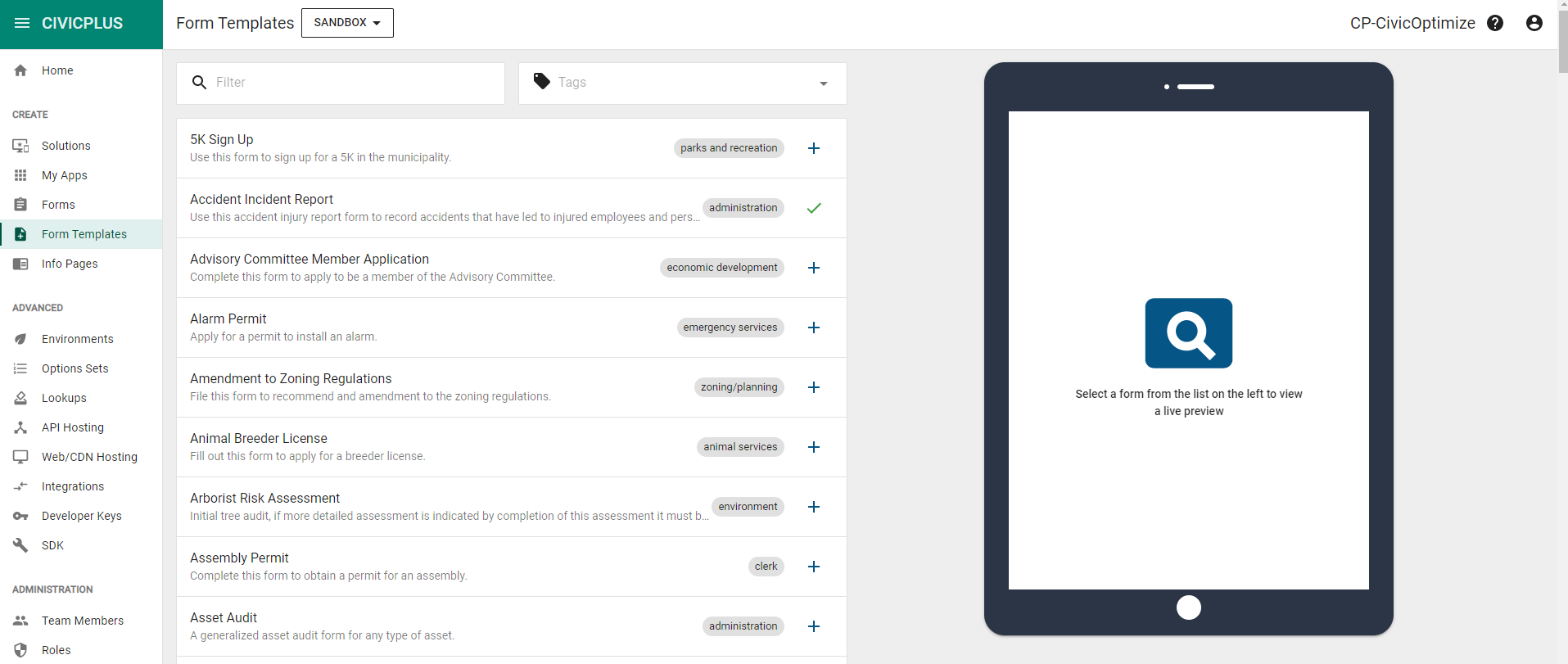 Find more information on Forms.
Info Pages
An info page allows you to add more information for your users to view.

For more information, please visit our Info Page section.
Advanced
Environments
Environments are used to contain and manage your apps, forms, and info pages. Using environments you can create separate areas for developing, testing, and production apps.

View more information on Environments.
Option Sets
Option Sets are a way for you to populate form selections automatically from a list of items returned from your APIs.

For example, if you need to ask your users to select which state they are currently living in. You aren't going to want to recreate that element every time you need a user to answer that question. Instead, simply select the state option set from your Option Sets list.
Learn more about Options Sets.
Lookups
Lookups are used to either populate existing form elements or generate form elements by linking to OneBlink hosted or custom APIs. These can be incredibly powerful, from pulling information into a form via your CMS to generating entirely custom forms.

Check out more information on Lookups.
API Hosting
You can access the API Hosting section by going to the side menu and selecting API Hosting.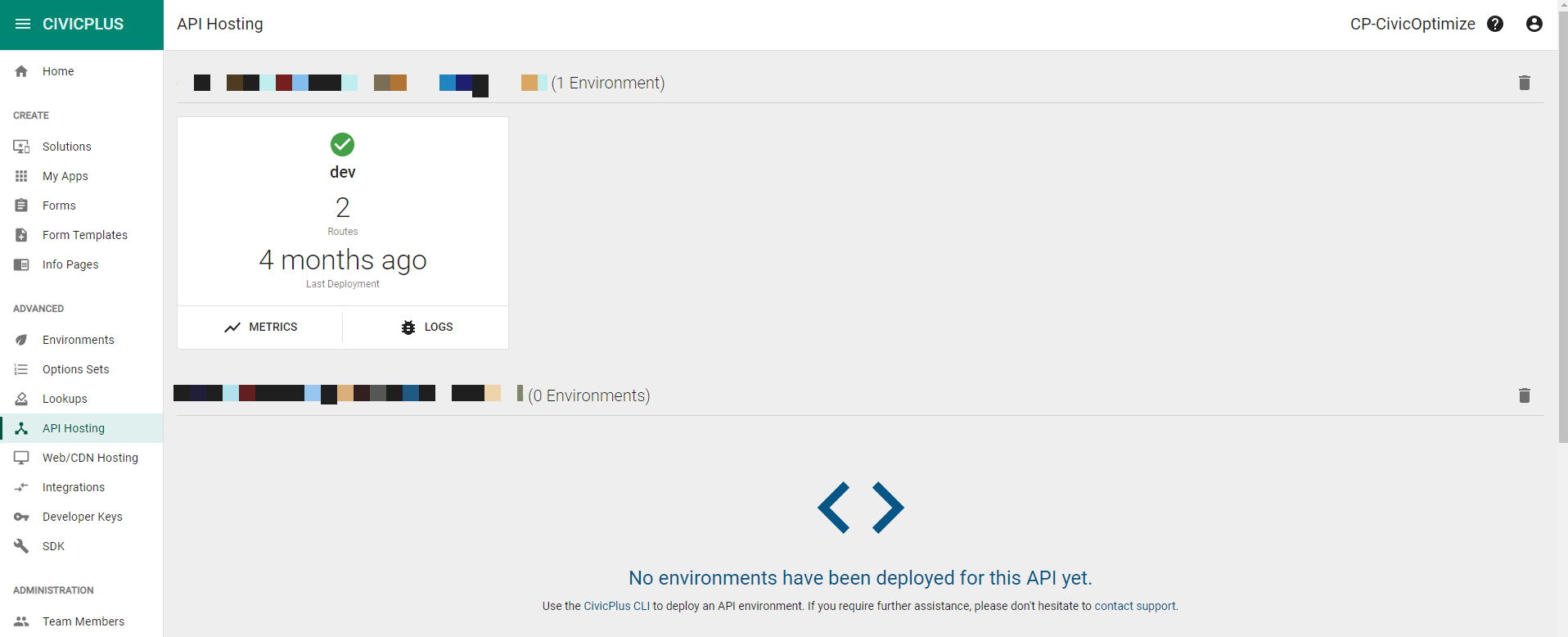 This will display a list of your API endpoints hosted on the platform, with the following options:
Endpoint: The unique URL that represents the API
Environment Health: The environmental health column will show you the environments for that endpoint that have been deployed (for example, dev, test, and prod). The health is represented by a traffic light system, which measures the percentage of errors over 24 hours

Green: < 5% errors
Yellow: >= 5% errors
Red: >= 20% errors

Viewing Logs: You can click on the environment to view the logs for the associated endpoint. You can then click on the API items to view details for that particular API endpoint
Web/CDN Hosting
You can access the Web Apps section by going to the side menu and selecting Web Apps.

This will display a list of your custom web apps hosted on the platform.
Endpoint: This is the unique URL for your web app
You can then click on the web app items to view details for that particular web app.
Integrations
There are different integrations that are available with CivicOptimize.

For more information, please visit our Integrations section.
Developer Keys
The platform allows developers to create their own keys inside the console.
Keys can be created for Forms, Web Apps, APIs, and PDFs.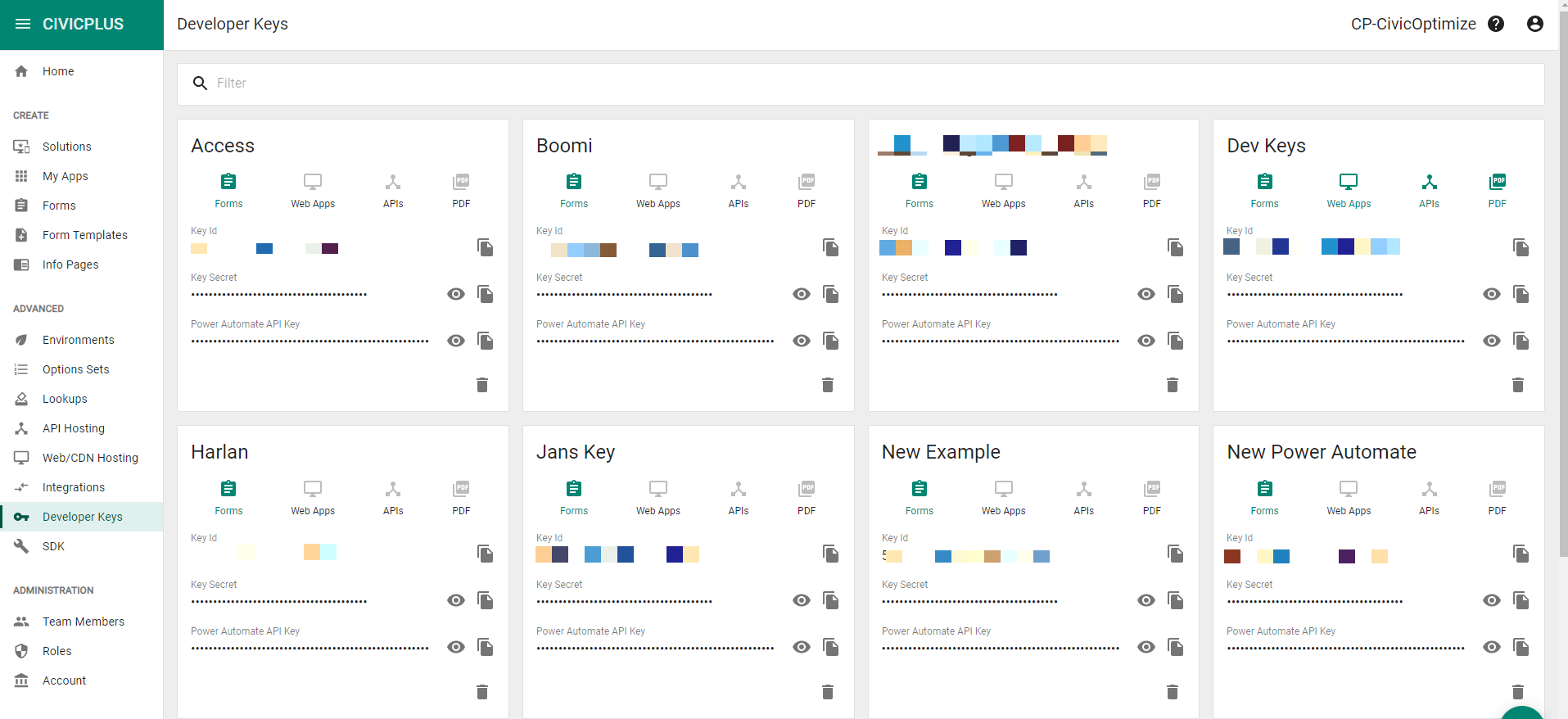 To create a new key, click the + button. You will then be asked to give the key a name and to select what privileges you would like the key to have.
SDK
The Productivity SDK is an open-source SDK designed to allow developers easy access to features.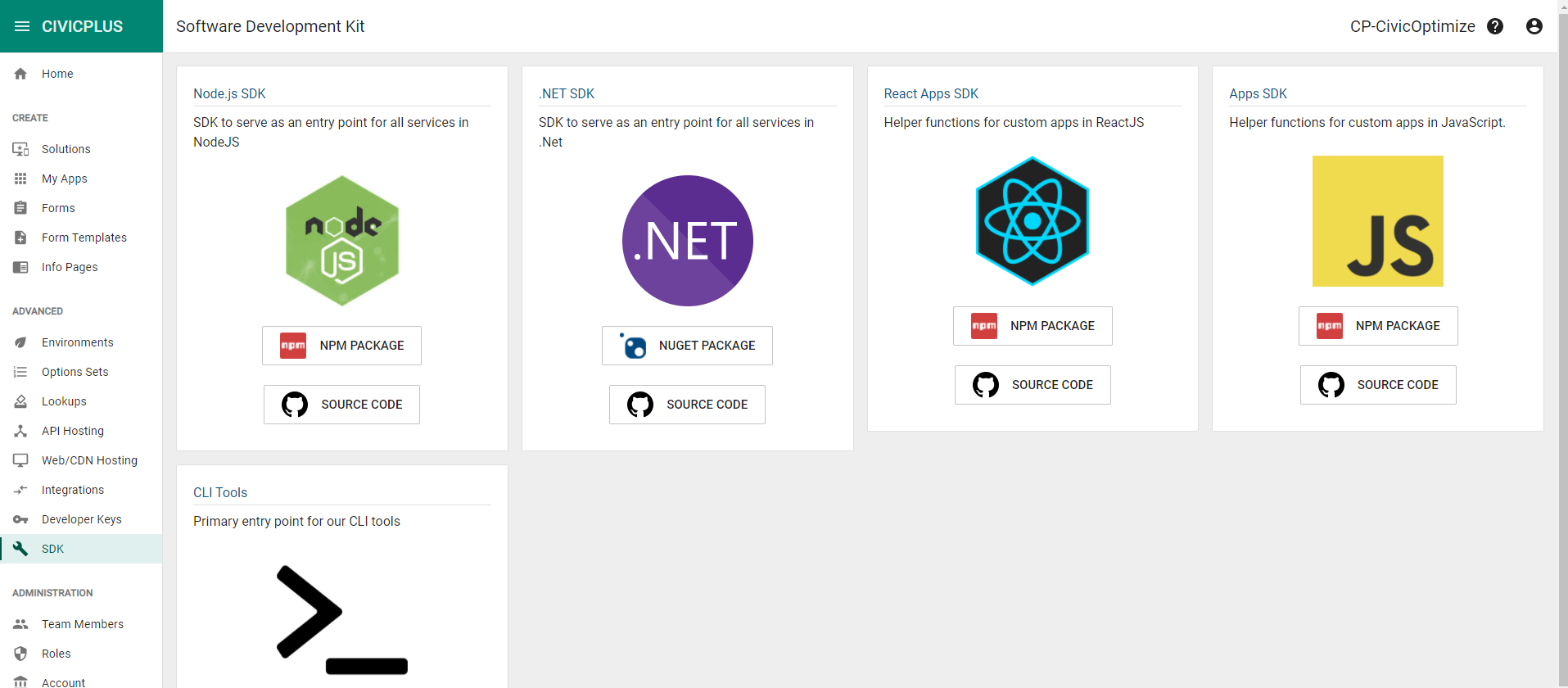 Users have access to the NPM Package and NUGET Package, as well as NPM documentation.
Administration
Team Members
You are able to invite your colleagues to your organization, giving them access to the console.
On the Team Members page, you will see a list of current users in your organization.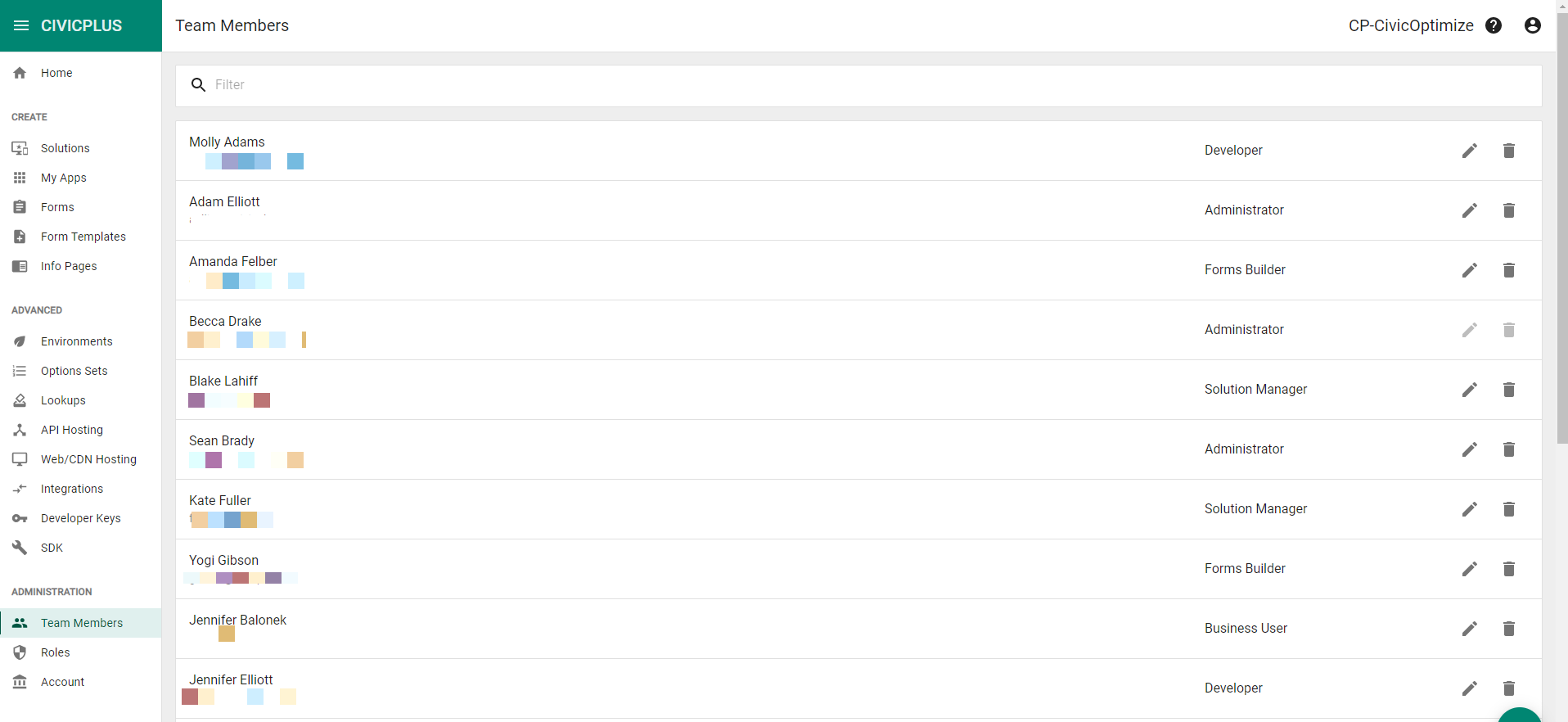 Users are broken up into two categories, Team Members and app users. Team Members have access to the full console. App users only have access to the Apps they are associated with.
For more information on a user, please visit Users.
Roles
Productivity includes 4 default Team Member Roles. These Roles and their corresponding permissions can be found in the Roles menu.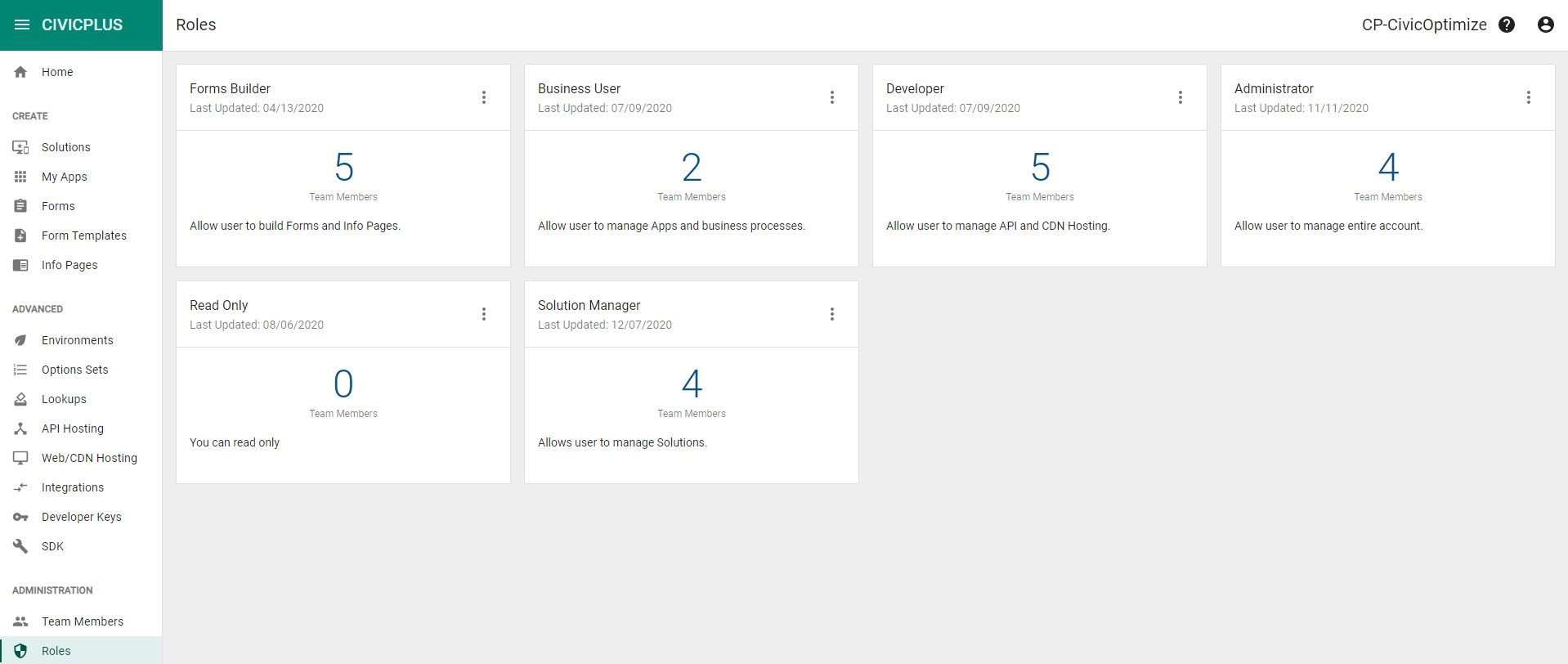 To find out more information, please visit our Roles section.
Account
The Account menu provides an overview of your personal profile and your organization's account details. Telling when you are reaching the limits of your account as well as providing data retention configuration.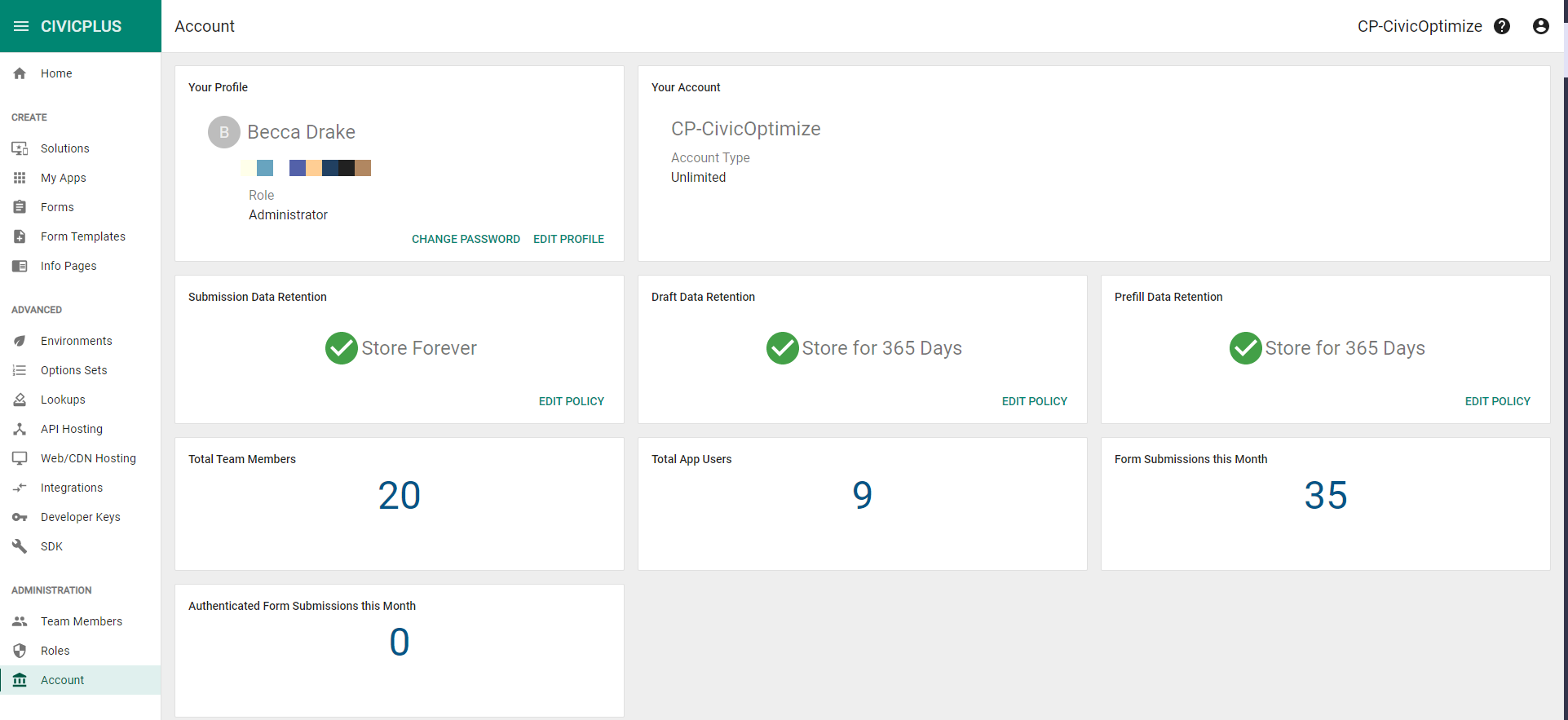 Find more information about your account.
Getting Help
If you need help, we're just a click away. At the top right of any screen within the console you will see a question mark. Select this, and it will take you to this support help desk where you can create a ticket, and we'll be more than happy to help guide you.