When a form is submitted, the form data is automatically saved to a cloud data store.
In addition to this, you can also add other submission events that are performed after a form is successfully submitted. To set these, select the Submission Events tab in the forms section of the console.
Draft Submissions
Submission Events can also be set up to run on a saved draft. To implement this click the Add Draft Event option. This will ensure that this event only occurs on a draft submission.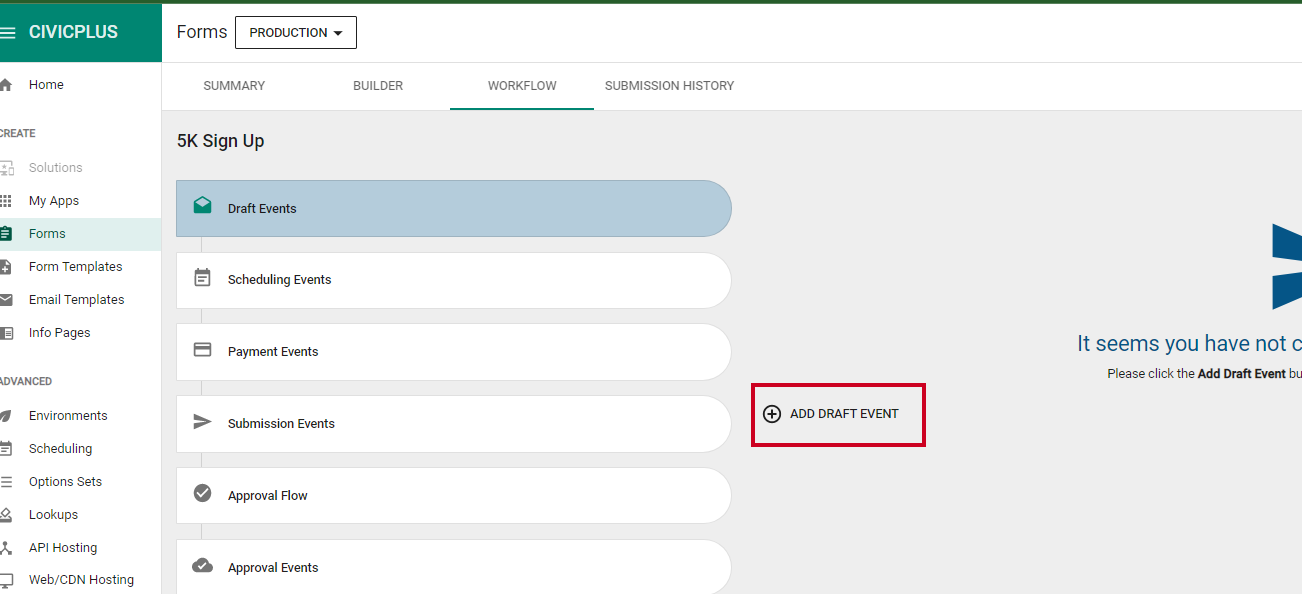 Note: You may need to first set up Draft Data Retention in order to enable drafts.
Submission Event Types
Email + PDF: Enter an email address to have a PDF document emailed, containing all of your form submission data.
CivicPlus Pay: Quickly connect payment options to your Productivity solutions. Build transactional experiences for your users that are quick, safe, convenient, and familiar with the built-in CivicPlus Pay integration.
HCMS. With Productivity's integration to the CivicPlus HCMS, create and manage all your content and data from our single, unified and integrated platform.
Power Automate. Use Productivity's Power Automate connector to integrate your form submission data with hundreds of enterprise backend systems and services, including multi-step logic, approvals, and workflow.
Custom Webhook: Productivity will send a request to this URL on successful form submission. This is an advanced feature used for integration purposes.
Micro Focus Content Manager: Use Productivity's Micro Focus Content Manager integration to post your form submission data to your Micro Focus backend system containers and assign actions.
Resource