Overview
The Account menu contains a summary of your Profile, Retention Policies, Data Manager forms, and Usage.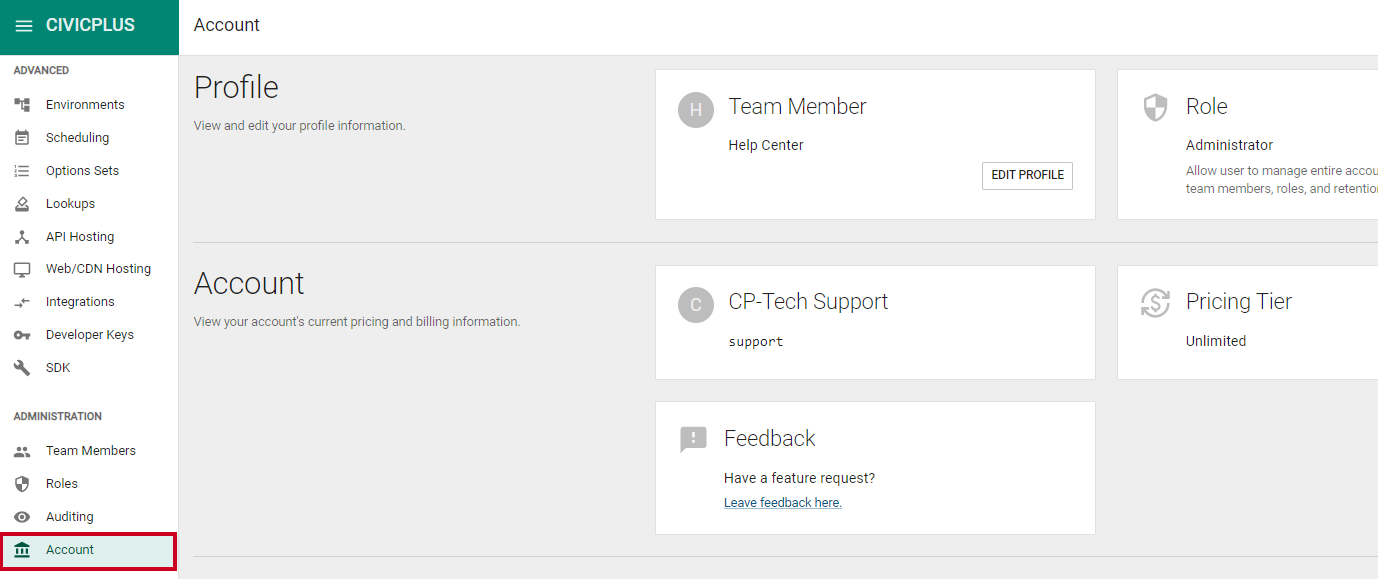 Profile
The profile section displays your Team Member details, and the current Role you are assigned. You are also able to edit your profile in this section.

Account
The account section includes your account name and slug, and the pricing tier your account is on. It also includes a link to the feature request page.
Retention Policies
Retention Policies are global and can be set to "Do not store" (default), they can be stored forever, or they can be stored for any number of days. In order to activate a Retention Policy you must agree to store data as per the Data Storage Disclaimer. Retention Policies are broken up into 3 categories.
Submission Data: Form data that is submitted when someone completes a form.
Draft Data: Form data that is stored when a draft is saved.
Prefill Data: Prefill data is used for approvals, jobs, and any custom pre-filled data.

Form Policies
Submission Data Retention Policies can also be set per form. This allows you to have a global retention policy of 365 days, but a specific form can have a retention policy of "Do not Store". Any Retention Policy duration can be set on a form as long as it is less than the Global Retention Policy duration. Meaning if the Global Retention Policy is set to 7 days, the form Retention Policy cannot be set to more than 7 days.

Data Manager
If you have Data Manager enabled for your account, then you will first need to choose what forms you want to use. Once the form has been selected, CivicOptimize will start storing any new submissions in Data Manager. If a form is removed from the Data Manager Forms list, then CivicOptimize will stop storing the form in Data Manager. This does not affect the storage of data in submission history.
Usage
The usage section displays an overview of the account resources being used compared to your account limit. If no limit is shown that that resource does not have a limit for your account.
Public Form Submissions: Submissions from forms that are publicly accessible
Private Form Submissions: Submissions from forms that require the user to log in before being able to access
Total App Users: Number of users across all apps in the account
Total Data Manager Users: Number of Data Manager Solution Applet users in the account
Total Team Members: Number of Team Members who have access to the account